Sarah Michelle Gellar teases 'Ringer' twists
Published May 31 2011, 11:38 BST | By Catriona Wightman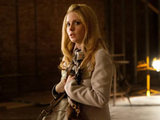 Sarah Michelle Gellar
has promised that there will be twists in her new show
Ringer
.
Ringer
, which
will premiere on The CW this fall
, stars Gellar as a woman on the run who assumes the identity of her twin sister.
Gellar has now told
TV Guide
that she is excited about playing twins in the series.
"I believe there is duality in everyone," she said. "[The pull between good and bad is] something I have always been fascinated by. Now I multiply that by two characters."
Gellar also teased that there will be surprises in the show, saying: "Just when you think you know where something is heading, we take a 180-degree turn. No-one is who they appear to be."
The actress has previously
described working on Ringer as a "challenge"
and has
suggested that the show is "film noir"
.
> 'Ringer': Sarah Michelle Gellar returns to TV
Watch an extended trailer for
Ringer
below: