'Heroes' star for 'Hawaii 5-0' guest slot
Published Aug 13 2010, 14:58 BST | By Paul Millar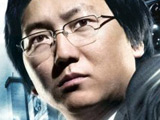 Former
Heroes
star
Masi Oka
will guest star in
Hawaii 5-0
, it has been confirmed.
TV Guide
reports that the 35-year-old actor, best known for playing Hiro Nakamura in NBC's cult drama, will appear as a coroner in CBS's remake of the classic crime series.
Oka will debut in the fourth episode as the coroner, and producers are expected to bring him back for future episodes.
D.L. Hughley has also signed appear in Hawaii Five-0's third episode as a character named Skeet, who is serving a double life sentence.