'Friday Night Lights' likely for renewal
Published Mar 9 2008, 16:46 GMT | By Neil Wilkes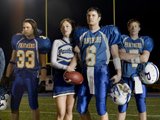 Friday Night Lights
is expected to return for a third season as part of a deal between the show's broadcast network and a US satellite operator.
The drama has garnered low ratings - the second season managed an average of just 6.2 million viewers - but has high critical acclaim, a solid fanbase and regularly places first in the 18-34 demographic.
The new deal, between NBC and DirecTV, would see both parties shoulder financial costs. DirecTV would offer new episodes of the series through its on-demand service first each week, with NBC airing repeats a day later.
The show airs on ITV4 in the UK.