'Heroes' star Milo Ventimiglia signs on to Frank Darabont pilot
Published Feb 22 2012, 03:23 GMT | By Tara Fowler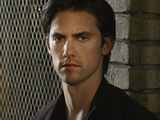 Milo Ventimiglia
has reportedly signed on to star in
LA Noir
.
The
Heroes
veteran is thought to be joining the cast of the TNT crime drama
created by former Walking Dead showrunner Frank Darabont
, according to
Deadline
.
Ventimiglia will play a marine named Ned Stax who becomes a "fixer" for the mob.
The series is based on the John Buntin book
L.A. Noir: The Struggle For The Soul Of America's Most Seductive City
. Set in the 1940s and 1950s, it centers on the fight between the LAPD, led by Police Chief William Parker, and the crime organisation championed by the infamous mobster Mickey Cohen.
The Walking Dead
's
Jon Bernthal is reportedly in negotiations to play Los Angeles police officer Joe Teague
.
Ventimiglia
has started developing a new comedy pilot for FX
focusing on a group of drone pilots in Nevada.
Darabont
left The Walking Dead in July last year
.