Katie Couric close to ABC deal?
Published May 20 2011, 07:36 BST | By Kate Goodacre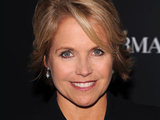 Katie Couric
is apparently in talks to host an afternoon talkshow for ABC.
The
Los Angeles Times
reports that show insiders have said that the programme would debut in autumn 2012.
The newspaper claims that Disney's chief executive Robert A. Iger is personally keen to secure her services as a replacement for the departing Oprah Winfrey. The talkshow host's
long-running Oprah Winfrey Show will air for the last time on May 25
.
Couric's spokesperson Matthew Hiltzik denied the rumours, saying: "Speculation around Katie is exciting, but there is no new deal to announce."
The news anchor made her last appearance on the CBS Evening News
yesterday evening. The programme featured
an interview with US Secretary of State Hillary Clinton
and highlights from Couric's career.
However, her contract with CBS does not apparently expire until June 6, which is when
her replacement Scott Pelley will first be seen on air
.
Watch Katie Couric as she closes her last
CBS Evening News
bulletin below: