'Twin Peaks' Season 2 gets UK release
Published Dec 3 2009, 11:23 GMT | By Mayer Nissim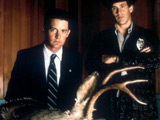 The second season of
Twin Peaks
will be released on DVD in the UK on March 22, 2010.
The first year of the cult 1990s TV show created by
David Lynch
and Mark Frost has been available for several years but the UK has so far been excluded from any DVD releases of the 22-episode second season.
Stars including Kyle MacLachlan and Sherilyn Fenn return for the series, which also features appearances from Heather Graham, Billy Zane and David Duchovny.
According to
Modernhood
, retailer HMV has sent emails to customers offering the opportunity to pre-order the box set.
It is not clear what extras will be included on the DVD, but the package includes six discs and will be sold with an RRP of £49.99.
> Is 'True Blood' the new 'Twin Peaks'?