'Melrose' producers defend Simpson exit
Published Oct 23 2009, 11:40 BST | By Dan French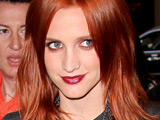 Melrose Place
executive producers Todd Slavkin and Darren Swimmer have defended their decision to
write
Ashlee Simpson-Wentz
out of the show.
Speaking to
Entertainment Weekly
, they said that they lost Simpson-Wentz's character Violet - as well as Colin Egglesfield's Auggie - in order to 'shift the tone of the show'.
Todd Slavkin said: "We felt that once the murder mystery was resolved, the tone of the show was going to shift into a much more fun, romantic, sexy upbeat kind of show, and [her] character would move on.
"Colin was always meant to be the ultimate suspect. And his brooding alcoholic [character] tonally didn't fit the paradigm moving into post-murder mystery
Melrose Place
."
Asked about the 'tonal shift' coming up on the show, Slavkin said: "Now that the characters are no longer suspects, they can have a great time, they can focus on their careers, they can get into bed with each other without having this ominous cloud hanging over the building.
"But this is still
Melrose Place
. There's still going to be intrigue on the show."
He added that Simpson-Wentz and Egglesfield acted like "total professionals" when they heard they would be exiting the series.