The Best Political TV Shows: Friday Fiver
Published Feb 3 2012, 17:21 GMT | By Catriona Wightman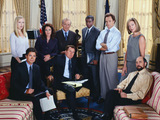 We're feeling a little bit distraught here at
Digital Spy
. Why? Because the last two episodes of
Borgen
air tomorrow on BBC Four, and we're really going to miss it.
Sure, it's a bit of a cliché to be a fan of Danish drama at the moment (yes, I'm wearing a woolly jumper but I'm cold, not trying to be Sarah Lund, honest.) But
Borgen
has been a delight - gripping, emotional, witty and always entertaining. It's even helped me understand Danish politics. Sort of.
In celebration of the series, we decided to dedicate this week's
Friday Fiver
to the best political TV shows on the box. Read on to find out what we picked (sorry,
Commander in Chief
fans...)
The West Wing - 1999-2006
We couldn't write a list of the best political TV shows and leave out
The West Wing
(some would argue that you couldn't leave it out of a list of the best television shows period). Sure, it was ridiculously idealistic, but it's no wonder that people wished they could actually vote for President Jed Bartlet. These were people who had the best interests of the country at heart, which is a lovely thought.
What fascinated me about
The West Wing
, though, was that it could take political issues I considered dry or boring or irrelevant and suddenly make them absolutely captivating. With a cast of wonderful characters - everyone from the president himself to his assistant Charlie to the chief of staff to wonderfully wacky Donna to CJ to the dear Mrs Landingham - you commiserated with them on their failures and were desperate for them to succeed. Wonderful stuff.
Watch a clip from
The West Wing
below:
The Thick of It - 2005-present
If someone showed you
The West Wing
and asked you to make a show with the complete opposite view of politicians, you might just come up with
The Thick of It
. Wickedly, bitingly funny, the series is absolutely scathing about the people in the halls of power, and seems a bit more realistic (though don't think about that too much - it'll only depress you.)
The show shot to fame not only because of Malcolm Tucker's potty mouth, but because of the magnificent writing. It's actually a pretty traditional show - incompetence and misunderstandings followed by a series of unfortunate events. But thanks to the brilliant characters (I'm weirdly a bit in love with Ollie) and the sneaking suspicion that they've nailed it exactly on the head,
The Thick of It
became unmissable television.
Watch a clip from
The Thick of It
below (contains strong language):
House of Cards - 1990
House of Cards
may only have lasted for four episodes, but what a four episodes they were! The Shakespearean drama focused on a Conservative whip who wanted to become Prime Minister and included all of the best bits of politics for television - manipulation, sexual scheming, corruption, backstabbing and general misbehaviour. And Ian Richardson was deliciously evil in the lead role.
The show became appointment viewing for politicians (hopefully they weren't looking for ideas), and with lines like: "You might very well think that, but of course I couldn't possibly comment," it's not a surprise that it swept the nation as well. Now we're intrigued by an upcoming US remake, which will be broadcast on Netflix - it's being directed by David Fincher and stars the marvellously-voiced Kevin Spacey. If there's any pedigree that can do the show justice, it's that one.
Watch a clip from
House of Cards
below:
Yes Minister - 1980-1984
If you're under any illusions that
Yes Minister
wasn't a success, you might want to back away now. The show had three highly-rated series, spawned an also-successful sequel
Yes, Prime Minister
, was adapted into episodes for radio and has now even been turned into a stage show. So yes, it's fair to say that
Yes Minister
was something of a hit.
Often making lists of the nation's favourite television shows,
Yes Minister
succeeded because it treated its audience intelligently, but never dipped into worthiness. In fact, it was rather funny indeed. It also reportedly happened to be one of Margaret Thatcher's favourite shows - make of that what you will!
Watch a clip from
Yes Minister
below:
Party Animals - 2007
We could easily have placed
Party Animals
into one of our previous lists about shows cancelled too soon. Sure, the show didn't pick up particularly good ratings, but we'd have loved to have seen another series. Unfortunately, it doesn't look like the cast will be getting back together any time soon - one of them,
Matt Smith
, is in some show called
Doctor Who
while Andrea Riseborough's apparently a movie star now...
The series focused on a group of bright young things in Westminster, and didn't shy away from throwing a bit of drugs and sex into the mix. It was witty, entertaining drama - sure, it was a bit fluffy and probably wasn't
quite
realistic, but we had an awful lot of fun watching it.
Watch a clip from
Party Animals
below (contains strong language):
What are your favourite political TV shows? Let us know below!