'Skins' Will Merrick & Alex Arnold Q&A: 'The group is still fragile'
Published Jan 18 2012, 12:24 GMT | By Catriona Wightman and Tom Mansell
Warning:
This article contains language and/or sexual references that younger readers are advised to avoid.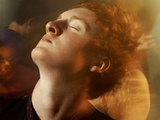 Fancy another slice of
Skins
pie? How could you not?! You're in luck - it's time for a chat with Will Merrick and
Alex Arnold
- also known as Alo and Rich.
We caught up with the pair in the hallowed corridors of Roundview college to chat about what we can expect from this series.
Watch our video with Will and Alex below to find out what's going on with the group, whether Alo will be a bit luckier in love, what Alo and Rich's band sounds like and why they want to be rockstars. Scouting for Girls fans, you might want to look away now...
Skins returns on Monday at 10pm on E4. The first episode is available to watch on 4OD now.