Caggie Dunlop talks 'Made In Chelsea'
Published Jun 27 2011, 12:33 BST | By Lewis Corner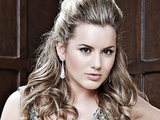 It's been a mere seven weeks since UK TV audiences met
Caggie Dunlop
in the opening scenes of E4's new scripted reality soap
Made In Chelsea
. Introduced as Chelsea's answer to Lauren Conrad, the aspiring musician has had a series packed with flirtatious clay pigeon shoots, emotional masquerade parties and posh-nosh dinners with death stares for sides. Ahead of tonight's series finale,
Reality Bites
caught up with Caggs to talk Spencer, Funda and future plans.
Does the fact there are cameras on you influence any personal decisions you make about your relationship with Spencer?
"Not really. We don't have a relationship beyond our friendship, so it's not too complicated. Of course the cameras make you a little more aware of yourself, though."
Do you feel like we've seen the real Caggie on the show?
"I would like to think so, for the most part, yes! Of course as a viewer you only get to see a very small snippet of any of the characters. I tried to represent myself well, and while the show is edited - which is out of my hands - I think I came across OK."
Are you happy with the way the show has portrayed the Caggie, Spencer, Funda love triangle?
"There really is no love triangle! Spencer and I are old, close, friends and like most old friends we do have some history. We aren't in a relationship now and haven't been at any point during the show. I feel bad for Funda that she was lead to believe there was anything more to it than that."
Do you think you could ever be friends with Funda?
"Sure, maybe... who knows? I don't have any vendetta against her and I don't like to think that there is any enmity between us. I guess we'll see... but the way things have been left in the show I can't really see that happening in our future."
After Spencer took you to Cannes for your birthday, what will you get him for his?
"I'm going to make him a papier-mâché hat..."
How soon can we expect to hear an album from you and what is it going to sound like?
"I'm really excited about the music I have been working on recently.
Made In Chelsea
has given me an incredible platform to reach an enormous audience and I've been so touched by the response I have received directly from viewers of the show through sites like Twitter. Hopefully you'll be hearing more from me soon... Watch this space!"
How would you describe your musical influences?
"I get influenced by a huge range of music, I listen to everything from Edith Piaf to Chase And Status. I like finding out about unknown artists and listening to their stuff because you don't risk it being overplayed on the radio. What I write about is usually directed by what's going on in my personal life. For me, the worse the experience I'm going through, the more powerful the song."
Are you worried that people won't take your music seriously because of your Made In Chelsea connections?
"A little… but I think as an artist it's my job to worry about the quality and integrity of the songs I write and record. I have to put out material that I really believe in and like. Beyond that, I think its down to the audience to decide how they take it. If I'm pleased with the music I'm creating and writing - that's enough for me."
If you could collaborate with any musician, who would it be?
"Devlin is wicked. Labrinth. And I'd love to write a song with Adele."
If your music career takes off would you still be willing to do Made In Chelsea or would you leave?
"I've enjoyed making the show so far, I love making music, so lets just see. I certainly wouldn't rule anything out yet. But I don't know what the future holds for me yet, this is hopefully just the beginning."
Made In Chelsea
concludes its first series tonight at 10pm on E4.
> Made In Chelsea scoops second series