Big Brother housemates face Spaghetti Western challenge - pictures
Published Jul 16 2012, 17:16 BST | By Alex Fletcher
The Big Brother housemates have continued their cowboy-themed Gold Rush task today with a Spaghetti Western challenge providing a new battleground for the competing teams.
Housemates are competing for a special prize in the Gold Rush challenges, which will be revealed later today as immunity from this week's eviction.
Big Brother gallery - Latest photos from the house: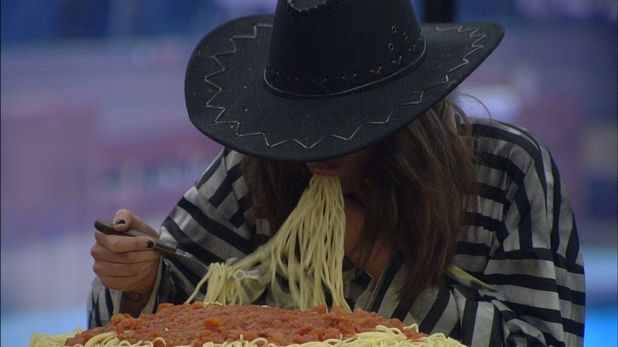 Big Brother 2012 - Day 41: Ashleigh eating pasta
Sunday's tasks included a dance-off in The Hoedown and a shooting challenge in Raw Hide.
The first task on Monday was Spaghetti Western, which has involved the housemates competing to eat the most pasta.
The winners of all the challenges earned more time in the Rocky River of Gold showdown, which determines who lands the immunity prize.
Big Brother continues daily on Channel 5.