Big Brother housemates lash out after Arron rule break punishment
Published Jul 6 2012, 11:18 BST | By Daniel Sperling
Big Brother star
Arron Lowe
has enraged his housemates by breaking the rules of this week's
'Turf War' task
, causing them to lose all their luxury food and be placed on survival rations.
The 23-year-old was rounded on by the rest of the group and had a washing-up bowl filled with milk, spam, anchovies and olive oil thrown over him by Adam Kelly this morning (July 6) after he last night jumped fully-clothed into the pool and hot tub, territories won by the blue team.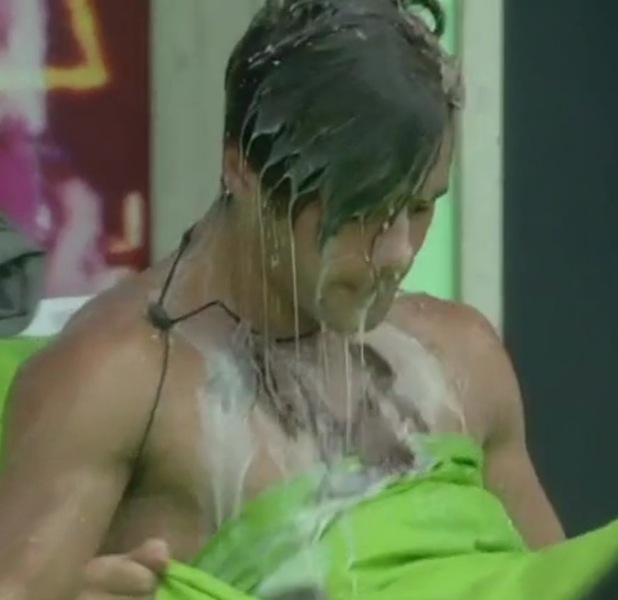 After being told yesterday (July 5) that he would be punished, a defiant Arron ripped his vest apart to reveal that he had scrawled the words "f**k u BB joker" on his torso.
Big Brother responded by removing the food and announcing to the whole house that the green team has now lost control of the kitchen and the bathroom, leaving them virtually nowhere to go in the house and putting them more at risk of losing their right to nominate next week.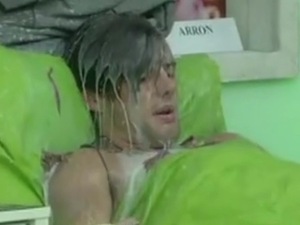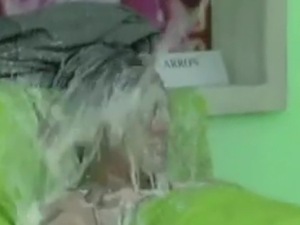 Arron admitted afterwards that he "didn't expect that amount of punishment", which caused a furious Becky Hannon to ask: "What were you trying to do, get air time?"
Luke Scrase, meanwhile, called the model "an absolute d**k" and angrily stormed out of the bedroom into the living room, where he paced about with clenched fists while waiting to enter the Diary Room.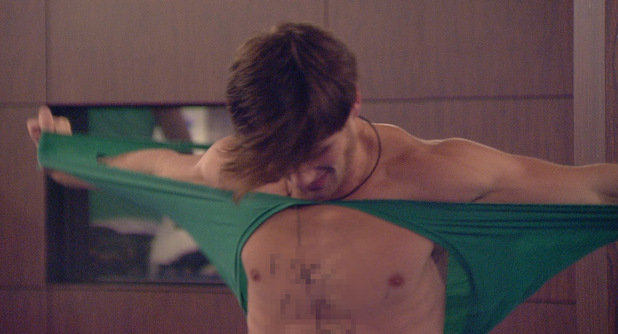 Kicking out at fixtures in the house, the nightclub promoter despaired: "We can't shower, we can't eat... [we can] only sit in the bedroom."
With the tense atmosphere in the compound lingering, Scott Mason later said: "If I were Arron right now I'd probably just leave."
Arron
faces possible eviction from the Big Brother house
tonight along with Becky, Conor McIntyre and Deana Uppal.
Photo gallery - Big Brother day 27: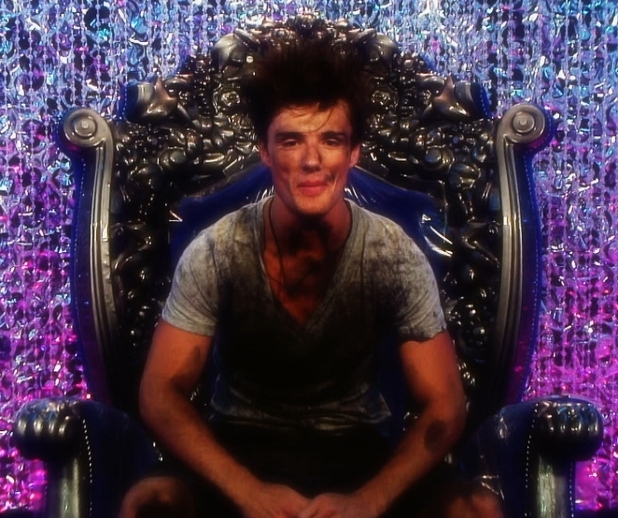 Arron gets a shock