Big Brother wildcard Becky Hannon given secret task
Published Jun 9 2012, 00:53 BST | By Greg Laing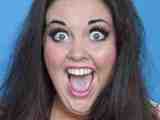 Big Brother's new wildcard entrant
Becky Hannon
has been given a secret task on her first night in the house.
The bubbly 19-year-old student
joined the original housemates last night (June 8)
after defeating Bhavesh and Anthony in a public vote.
But it only took an hour for Big Brother to set her a secret mission.
As she sat in the Diary Room, Big Brother explained that, in order to win immunity from the next public vote, she must become at least one housemate's favourite contestant.
Everyone in the house will be asked on Sunday (June 10) to name their favourite fellow resident. If nobody chooses Becky, she will automatically face the public vote.
If at least one person picks her, she will be granted immunity.
Reacting to the news, Becky said: "This is the worst-case scenario in my life, man."
She later added: "That's the way the cookie crumbles. I will be someone's favourite housemate. I will be."