Davina McCall: "I don't walk around screaming"
Published Jan 3 2012, 10:06 GMT | By Mayer Nissim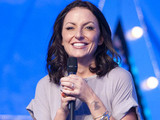 Davina McCall
has said that she is not a "shouty" presenter.
The
Million Pound Drop
host told
Metro
that her reputation was a misconception based on her inexperience during Big Brother's first run in 2000.
"On the first series of Big Brother, there were always 1,000 people in the audience and I didn't know you didn't need to shout with a stick microphone," McCall said.
"I just knew I couldn't hear myself. So I shouted. Since then I'm known as the shouty presenter. But actually, I don't shout. I don't walk around screaming."
Asked if it was a relief to leave the show, McCall added: "It wasn't a relief but, after saying goodbye in a massively public way, to go back would have been crazy, especially as I'd been setting myself up for life after Big Brother.
"I had other programmes and other TV to make."
McCall was
replaced by Brian Dowling
when the reality show was resurrected by Channel 5 last year.
Dowling said that he
hoped viewers would not compare him
to McCall, while she
praised him as a presenter
with "buckets of personality and tons of TV experience".
Watch Davina McCall
receive two Digital Spy Reality TV Awards
in 2009 below: