Marcus Akin interview: 'Big Brother is part of British culture'
Published Jul 13 2011, 08:00 BST | By Alex Fletcher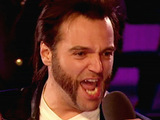 Silent Library
is going to be your new favourite post-pub TV treat. Based on a Japanese gameshow, the programme features teams of contestants taking on daft, disgusting and dirty challenges for cash. The only catch is that they must remain totally silent throughout. A
Big Brother special
featuring Josie Gibson,
Marcus Akin
and Sam Pepper will air later this year and we caught up with Akin after filming for catch-up.
I've just watched you get electrocuted and eat a whole raw egg. Have you enjoyed your day in the Silent Library?
"That was just me being hardcore. Metal to the bone. I am metal."
What's it like eating egg shell?
"It was quite chalky, but I eat my nails anyway, so I was quite used to the consistency. There was a bit much of it, but it wasn't too bad."
After Big Brother does every TV show pale into insignificance?
"I live a life where if I mention them to people, they say, 'What the f**k have you been doing?' People often say, 'Wouldn't it be awesome if someone did that?' I then look around and say, 'Well, it doesn't look like anyone else is going to do it...' Some of the things I do, you'd probably say, 'Shut up! Why did you do that?' My answer would just be, 'It needed to be done'. Things like
Silent Library
are easy peasy for me."
Are you pleased that Big Brother is returning on Channel 5?
"It's part of all our lives now and it will always be there. It's part of British culture and if it wasn't on TV, then what are so many people going to do for the summer... or the autumn as it is now. Part of our culture would be missing. But, I hear that there's going to be no live feed this year though, which is a bit s**t isn't it?"
Do you think it will be a success?
"I think it will depend on the first couple of shows. If it's the same people doing the same things, then it will be the same. It needs some new blood in there, not to change it fundamentally, but to stop it becoming predictable and run of the mill. People can blame the housemates, but at the end of the day, the housemates can only work with what they're given. It needs the people in charge to shake it up a bit."
Who inspired you to go on Big Brother?
"I don't think anyone inspired me, but I respect Rex from BB9 for calling it down the line. Glyn is a very nice guy. Pete Bennett is a nice guy. I could just reel off the t*t birds as well. But I'll just bunch them together as the t*t birds and I'm sure they won't take offence to that."
Are you excited about Celebrity Big Brother?
"I do like the celebrity ones actually. Sometimes the celebrities are not celebrities. I don't think anyone could stand up and say Ronnie Wood's girlfriend is a celebrity. But I've heard some good names kicked around this year. If they get Charlie Sheen... Jedward. Boy, it was a good job I wasn't in the last series when Jedward came in and barged into Andrew. I wouldn't have hit them, but I would have just done that thing where you shift your weight an inch. Those little bastards would have gone flying if they'd touched me."
There's lot of talk about Channel 5 sex-ing the show up. Do you think that's a good idea?
"It can go either way. In my year they had Sophie and she was in to be a t*t bird, but she turned out to be a ladette and that worked for the producers. I'm hoping it will be better this year with the product placement, because that should mean more money is involved. I've heard that the prize money is increased and that there's more budget to do stuff, so it could be really, really good. It won't ever be bad, but it could either be exactly the same or something special with new twists."
Do you find it strange that you have fans who still follow you on Facebook and Twitter?
"It's not like anything else you can do on TV, Big Brother. Rather than being famous for a character or a talent, you are get recognition for just being you. It's odd because you get people telling you how to live your life. There's no polite way to tell people, 'Go away, you have no idea about what I should be doing in my life'. Sometime it's a bit in your face, but it's the nature of the beast and I like a laugh and a joke. If someone's being too horrible, you can block them on whatever online resource you're on."
Does the endless abuse never get you down then?
"There are some people that just swear, but I do that as well. If I say, so and so off Big Brother is a w**ker - which you know I have done - I've got to take the good with the bad and have them say it to me. I won't say any publicity is good publicity, but I signed up to Big Brother to do whatever it takes to make the show good. I said to them, 'I'm not taking part for me, I'm doing it to fulfil my role'. My philosophy in life is that the best anyone can do is just their fair share. I always give things my all and take the rough with the smooth."
Silent Library airs on Tuesday nights at 10pm on 5*. The Big Brother special will air later this year.