BB Josie, John James 'moving in together'
Published Sep 7 2010, 12:21 BST | By Ryan Love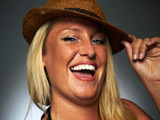 BB11 winner
Josie Gibson
has revealed that she and John James Parton are moving in together.
John James told
OK
that the pair had decided to "make a go of" their relationship.
"We're going to try a six-month contract," Josie said, in their first joint interview since leaving the Big Brother house.
The Australian continued: "We talked and we really want to make a go of this. It just sort of popped up in conversation. I don't even know how it came about. One of Josie's friends suggested it and we were like, 'Yeah, alright then'."
He added: "I thought Josie was going to move back to Bristol and I was going to move in with JJ. But we've decided to give it a go in London."
Josie denied that the couple were engaged and insisted that she had no immediate plans.
"Well, we're not engaged - despite what's been said," she confirmed. "But I'm not really one for a big white wedding. Plus my family is too big. There'd be too many to invite."
John James added: "On one side of the church, we'd have half of Bristol and all of Josie's celebrity fans. And on the other there'd be my mum. And Sam Pepper. He's going to be my flower boy!"
> BB Josie: 'I'd be devastated by betrayal'