David questions Josie on John James
Published Aug 21 2010, 21:27 BST | By Ruth Connors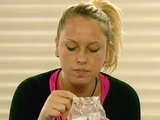 David questioned Josie on her ambiguous relationship with James this evening.
The pair have been unclear as to whether they were planning a romance after leaving the house, and after John James's
eviction
yesterday, David seized his chance to question Josie.
"So what happened with you and John James?" David began. "They asked me a couple of times in the Diary Room.
"I said, 'There's the possibilities of romance flourishing'. I said, 'They obviously like each other a lot, something could happen'."
David then joked that Big Brother would subtly attempt to gain information from him about the pair by asking him, "How are relationships going in the house?".
"I don't really know what's going on, I've got to speak to John when I leave the house," Josie explained, before recounting how her friends had warned her not to "get with anyone" if she went on Big Brother
"They said, 'Don't get with anyone', you haven't - not really. You get people who snog [on past series]," JJ consoled her. "You haven't tried to turn it into a full-on relationship while you're in the house."
David wondered whether if Govan had stayed, John James and Josie would have got together romantically, as Josie had spent most of her time with Govan before his departure. However, the Bristolian was unsure.