Josie 'will let John James move on'
Published Aug 20 2010, 12:52 BST | By Daniel Sperling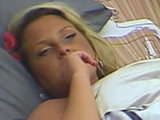 Josie has claimed that she wouldn't mind if John James got another girlfriend in the outside world.
As she spruced herself up in the bedroom for the day ahead, the 25-year-old asked an unusually quiet John James if he was OK, adding: "I was just wondering. I get a bit worried about you sometimes."
When the Australian replied that he was fine and left the room, Josie turned to a nearby Sam and said: "I don't think he's as strong as he makes out."
"He's not, he's a weakling," Sam replied.
Pondering how this caring and sensitive side could work to his advantage in the outside world, Josie predicted: "He's gonna have them [girls] all queuing up."
She then joked: "Imagine if I got out and then John's got a new girlfriend", before adding in a more serious tone. "If he's really happy I don't think it would bother me. You know when you love someone that much."