John James and Sam discuss argument
Published Aug 13 2010, 13:10 BST | By Ruth Connors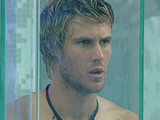 John James and Sam have discussed last night's argument.
After their disagreement yesterday, where Sam heard John James brand him "fake" to JJ and David, the pair had been avoiding each other's company. However, after sitting in the living room in silence this morning, John James asked Sam if they could talk in the hut.
"I know you think it was bitching behind your back," John James began. "If you heard the whole conversation you would have heard me say, 'I'm going to talk to him about it' and Dave said, 'Wait 'til this morning'. I had every intention of talking to you, Sam."
When John James argued that he did not start the conversation between David, JJ and himself last night, Sam maintained that he may have not started the discussion, but ended up "leading" it.
"I thought I was closest to you in the house out of everyone," Sam said. "You say I'm a good person then you say in the shower that I'm only friends with Josie 'cos I'm up for eviction - and you said that you believed I was only having banter with Josie.
"Now to be honest I don't want to be friends with you 'cos for you to change quickly 'cos of that little thing..."
John James explained that it had angered him to see Sam rush to Josie after his disagreement with her, as it looked like Sam wanted "camera time" to save himself from eviction.
"You looked like you were going in there for gossip," he said. "If you're genuinely concerned, I don't know if you care about Josie or not, I don't know… everyone in the house thinks you've changed since you've been up for eviction."
Sam started crying and insisted that his wish to stay in the house would never affect his behaviour.
"I don't care what people think about me and I don't care if people vote for me but I don't want to leave 'cos I want more experience in the house," he explained.
"I'd rather not be up for eviction the first week so I can enjoy a week in the house. I'm not worried that people won't like me, I'm worried 'cos I want another week in the house."
Speaking about his changing relationship with Josie, Sam added: "There's obviously issues I've got to air... then it all died down but we probably will still have arguments like you do like when I pulled the covers off - and that was after [I knew I was up for] eviction."
Noticing that Sam was upset, John James apologised for not speaking to him sooner and maintained that he had always liked him from the offset.
"The conversation could have been really simple but 'cos you weren't here to defend yourself I just rattled off on all these theories," he said. "I apologise, man, and if you don't want to be alright anymore, I completely understand."
Sam declared that he did not want any awkwardness in the house between the pair.
"I'm not back pedalling but even though I said last night I want you to go, I don't want you to go," John James said.