Josie worries over public perception
Published Aug 12 2010, 19:37 BST | By Sam Webb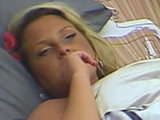 Josie and Jo have discussed the sort of characters that usually do well on Big Brother, as Josie confessed that she doesn't think the public will like her personality.
The Bristolian told Jo that she is 'marmite' when it comes to her relationships with people on the outside world.
"People either love me or cannot stand me," she admitted.
Jo disagreed. "I don't get that," she replied, before Josie explained that she thought her relationship with John James might have affected her popularity.
"People have probably had enough of our PDAs," Josie joked, referring to her public displays of affection with the Australian.
Jo then overheard John James talking to David and JJ about the potential outcomes of tomorrow night's eviction. "Listen to this now," Jo said, admitting that she had grown tired of the regular debates about the likelihood of a double eviction this week.
Josie agreed that the conversations were becoming tiresome, saying that John James had looked into the history of Big Brother before he came into the house. "John knows the insides out of a duck's ass; he done a power research before he came in… he could tell you anything," she claimed.
"I've watched it for years and years and been a massive fan," replied Jo, before assuring Josie that she would do well as the show continued. "Different types of people win, different types of people are liked and not liked," she told her.