Steve, John James tired of Rachel's shrieking
Published Aug 4 2010, 03:18 BST | By Alexandra Wilby
Warning:
This article contains language and/or sexual references that younger readers are advised to avoid.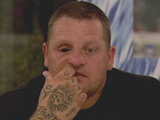 Steve took issue with the volume of Rachel's voice this evening, as the housemates became rowdy during an alcohol-fuelled pool party.
Before the group was
banned
from the garden by Big Brother, the so-called 'Baron' was observing the younger housemates in the pool and warned them that Big Brother would soon make the area out of bounds.
When he was proved right, Rachel still refused to be quiet, and the dad-of-eight made his disapproval obvious. As the scouser shrieked after being called to the diary room, he muttered: "Fucking hell. Turn your volume down. Jesus Christ."
As her shouts were still audible in the background he continued: "Find the volume switch. Turn her down a bit. Fucking hell!"
John James also vented his frustrations about Rachel during a chat with David about who will be evicted on Friday. "I think Rachel's fucking annoying," said the Australian, announcing that he thought the public vote would be between him and the flight attendant.
"She's a pain in the ass. I think she'd be annoying to watch... She doesn't do a lot. She's annoying in the mornings and annoying at nights, and that's it really," he added.