John James: "There is no sexual tension"
Published Aug 1 2010, 14:41 BST | By Naomi Rainey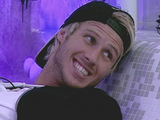 John James has denied there is any sexual tension in the house after a playful remark from Josie.
While lying in bed this afternoon, the couple whispered under the duvets as they cuddled. For much of the time it was unclear what was being discussed, as duvets rustled over their microphones and they continued to talk in hushed tones.
After a few playful comments and a lot of giggling, Josie was heard to say: "It must be all the sexual tension."
John James seemed surprised by her remark, laughing and saying: "There is no sexual tension! Don't pretend that there is." Pausing, the 24-year-old asked: "What is sexual tension?" Josie explained the meaning of the phrase, prompting John James to start giggling.
Lying in silence, John James then said: "Would you ever have sex in the BB house?" Josie immediately replied: "No, no way." John James thought about the question for a moment before commenting: "Nah. It wouldn't be worth it really."
The pair laughed as Josie accused John James of thinking too long about his answer. He then said: "You know that conversation? [The producers] will totally edit it so it sounds like I'm asking you to have sex on national television."