Josie to John: 'Will you play the field?'
Published Jul 30 2010, 21:33 BST | By Ruth Connors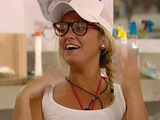 Josie has asked John James if he will still be interested in her when they leave the house.
Speaking in the bedroom before the housemates got changed for tonight's eviction, Josie commented that the Australian might not want to see her anymore if he exits the compound tonight.
"Are you going to play the field for a bit John?" she began.
"I'm not like that," replied John James, before Josie argued that she had heard evidence to the contrary.
The two then began joking around, however Josie soon steered the conversation back to where she stood with John James.
"Do you think you'll have any time for me when you get out?" she asked. "You might not have time John... doing what you got to do."
When John James didn't reply, she added: "You're quite good at playing it cool aren't you?"
The then two disappeared under the bed covers to continue their conversation out of earshot of Big Brother.
Later as the housemates began gathering at the sofa, Josie said to JJ: "They'll have loads of questions to ask John."
"I'm sure nine out of ten will be about you," he replied.