Caoimhe, Keeley free John James, Mario
Published Jul 14 2010, 23:36 BST | By Naomi Rainey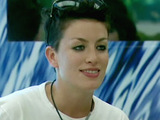 Caoimhe and Keeley have passed their part of this week's shopping budget
task
by completing a challenge as their superhero alter egos Key-va and Key-ley.
This evening, a rope climbing wall with five locked boxes was placed in the garden. Keeley was then provided with a motorised toy car called the 'Key-mobile'. The task involved Caoimhe scaling the wall to unlock the boxes, which would in turn provide a clue for Keeley to find the next key using her car. Keeley was unable to leave her car for the duration of the task.
As the 30 minutes for the task began, Caoimhe was cheered on by Josie, Rachel, Ife, Corin and Ben as they sat in the garden. The 22-year-old from Ireland found it hard to grip the wall, with Keeley instructing: "Climb with your heels!" After several failed attempts to reach the first box, Caoimhe removed her shoes and quickly reached the top of the wall.
Sitting on top of the boxes, Caoimhe opened the lock and read the first clue: "The clue you seek is near the nags, nestled in amongst the fags." While Keeley powered towards the carousel in her motorised toy car, Big Brother warned that Caoimhe must not sit on top of the boxes again.
Attempting the second box, Caoimhe was reminded by Big Brother to use the rope to climb the wall. The second clue read: "The next key will fulfil your wishes, hidden where you keep the dishes." Caoimhe jumped down and ran to help Keeley with the doors as she drove towards the kitchen.
After finding the second key, the 30-year-old estate agent manager struggled to get back out of the house, resorting to a three-point-turn in the corner of the kitchen when her attempts to reverse failed. The third clue: "The next key's in a darkened place, beneath the riddler's shining face," saw Caoimhe and Keeley heading back to the house to Bob Righter. Keeley then proceeded to crash into the sofas and get stuck in the kitchen door as the duo tried to get back for the final clue.
The final clue read: "The final key is not a fake, but where it is it's bound to bake." Heading back to the kitchen, Caoimhe was forced to lift the key down to Keeley as she was unable to reach the oven. Seconds before the klaxon sounded, Caoimhe scaled the wall and opened the final box, revealing a leopard print thong.
Confused as to whether or not they were successful, Big Brother called the girls to strike their poses outside the nest. Caoimhe announced that she wanted to save John James, while Keeley opted for Mario.
As John James and Mario left the nest, they thanked and hugged each of the girls for winning them back from the Uber Cougar. John James told them that they all looked "stunning" on TV, before adding: "That has got to be the worst task I have ever done."