John James: 'I'll struggle without Josie'
Published Jul 11 2010, 09:09 BST | By Tom Eames
Warning:
This article contains language and/or sexual references that younger readers are advised to avoid.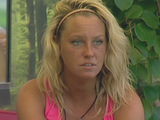 John James has told David that he would "struggle" with his time in the house, if he and Josie no longer spoke.
Yesterday evening, John James and Josie
fell out
over her calling him "crab eyes". Following on from a long Diary Room session, John James joined David in the bathroom. He said: "I want to be friends with her. I feel like I can't talk to her anymore. I'll really struggle without her. If I can't talk to her, I'd have the shittest time in here."
Later, David implied that John James had hinted about leaving the house. David said: "Don't even think about leaving dude, you're not going anywhere." John James replied: "I just need to be able to talk to her. I need to know there's peace [to the situation]."
David gave him advice, saying: "I'd look at it as a warning. You can't rely on her for your sanity in here. You've got to spread yourself out a bit."
Meanwhile, Josie spoke of the fall-out with the Australian, saying that she had had her "first proper bitch in the Diary Room" and that she almost "flipped out". Later, when talking to Corin about him, she said: "I'm gonna try and keep my distance [from him]."