Josie convinced John James will leave
Published Jul 9 2010, 21:26 BST | By Tom Eames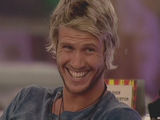 Several housemates have aired their belief that John James will be evicted over Nathan this evening, including John James himself.
Earlier, John James heard chants over the wall, leading him to be
convinced
that he is leaving tonight.
Later, while talking to Josie and Caoimhe about his earlier argument with Corin, Josie said: "John, you're going tonight, can you just stop [arguing]?" Caoimhe asked him if he will select her for a day of treats after he is evicted. John James responded by saying his first choice for that prize was Steve.
Josie asked John James: "What are you gonna do if you're saved?" John James joked: "Do you honestly believe there's any chance I'll be saved?" Josie answered: "What if by miracle you are though?"
While Josie joked that she "can't wait" for John James to leave, Caoimhe and Mario both declared their sadness if he were to be evicted.
Meanwhile, Steve and Nathan revealed that they heard chants of "we're here Nathan" over the wall, and Ben said that he heard "50 girls and 12 guys chanting [Nathan's] name".
Housemates will discover who out of Nathan and John James is evicted later this evening, as well as the arrival of three new housemates.