Mario acts cryptically over 'secret'
Published Jun 29 2010, 05:53 BST | By Tom Eames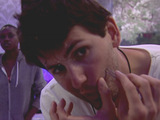 Mario acted cryptically in the early hours of Tuesday, in relation to his so-called "secret".
While in bed with Ife, the subject of the secret Mario said he was going to reveal in week six arose.
Ife whispered to him, asking what the secret was. Mario raised his hand and held up three fingers. He said that it is "not very interesting" and that "Big Brother forbid me to say anything".
When asked for more, he said: "You have to ask yourself why were you never allowed into the mole hole." Ife tried to get more out of the former 'mole' but he refused, suggesting that they went to sleep.
Eventually the pair settled down for the night, awaiting Day 21, where housemates will discover who is nominated this week.