Josie: 'I couldn't kiss John James'
Published Jun 23 2010, 08:15 BST | By Daniel Sperling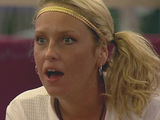 Josie has said that she could never kiss John James.
Despite her
flirtatious
behaviour towards him, the 25-year-old country girl shared with Govan and Caoimhe her concern that she was looking like a "desperate whore" after spending most of the day "following him about".
She then shot down Caoimhe's suggestion that she could just give John James a one-off kiss, claiming it would be like "kissing a child".
"I don't know why, but I feel about 25 years older than John James," she confessed. "It would be like kissing someone who's just walked out the school gates."
Later Josie shared her concern with John James that everyone believes there to be an attraction between them.
John James pointed out that Big Brother would like that, saying: "They always look for romances in here.
"I don't doubt that when I leave my first question will be 'whats going on with you and Jose?'"
"I'm gonna say he really wanted me, but obviously I had to say no because he's got too much of a bad temper," Josie joked.
John James then revealed that he was worried that Sunshine might be attracted to him, as having to let down girls that he's not interested in upsets him. He also predicted that Josie would end up getting close to Nathan during her time in the house, which she quickly disagreed with.