'Misfits': Ten teasers about episode six
Published Dec 2 2011, 09:00 GMT | By Catriona Wightman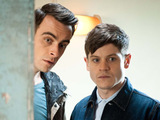 There's another cracking funny and emotional episode of
Misfits
coming up for you this weekend, as Rudy's party lifestyle (and more specifically his partying-with-the-ladies) catches up with him. Yes, it turns out that not all women appreciate being used for sex (who knew?) and one of them can actually do something about it...
If you want more hints about what's coming up in this weekend's instalment, read on for our ten teasers about the episode!
1.
"I'm scared."
2.
Curtis discovers that being a woman isn't all that it's cracked up to be. In fact, there can be some serious complications (and believe us when we say
serious
).
3.
"I never meant to hurt anyone. I'm sorry."
4.
Rudy has a bit of a shock in the toilet (he even drops his ice cream).
5.
"That is so f**king rank."
6.
Simon's power (to see into the future) comes into play - only the future is awfully disgusting. He might wish he hadn't seen it after all.
7.
Those Seth and Kelly fans amongst you - well. Boy, is a spanner being thrown into the works this week.
8.
"I've got to save my ****!"
9.
Rudy's power actually comes in useful when he gets himself into a bit of bother (hint: police station).
10.
Two of the characters strike a
very
interesting deal - which might just cause some trouble.
Misfits airs on Sunday at 10pm on E4.