Shaheen mum denies 'fix' accusations
Published May 28 2009, 10:20 BST | By Mayer Nissim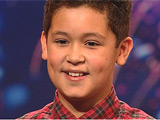 Shaheen Jafargholi
's mother has denied claims that her son's first audition on
Britain's Got Talent
was staged by producers.
During the
performance
, the 12-year-old started singing Amy Winehouse's cover of The Zutons' 'Valerie', but was interrupted by Simon Cowell and asked to sing another song, which he did successfully.
His mother Karen told the
Daily Mail
: "There's no conspiracy. It's ridiculous.
"Everyone has to have a back-up track anyway; they told us to bring two CDs or more, so it wasn't like Shaheen was singled out."
Shaheen, who has previously
rejected
accusations of a set-up, added: 'It was scary. But Simon gave me another chance, which was really cool. I'm not sure why he did.
"I think maybe it was the fact that I sang 'Valerie' well and maybe he thought I could just sing something else better. I'm just glad he didn't stop me altogether. Then, when I got all those brilliant comments, it was amazing."