'Mrs Brown's Boys' repeats scoring big audiences on Saturday nights
Published Jun 25 2012, 16:11 BST | By Paul Millar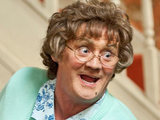 Mrs Brown's Boys
has cemented its popularity in the UK with high ratings for its Saturday night repeats.
The
Brendan O'Carroll
sitcom's first series episode 'Mammy's Secret' amused 3.67m (20.5%) on BBC One at 10.20pm, up from
3.5m last week
.
Spain's 2-0 win against France in Euro 2012 scored 7.33m (33.2%) between 7.15pm and 10pm, giving ITV1 its best audience of the night.
Primeval
, airing in an earlier slot of 5.30pm, slumped to 1.77m (10.9%) but added 400k (2.2%) on ITV1 +1.
You Cannot Be Serious!
fell to a new low of 1.49m (8.5%) at 6.45pm.
John Barrowman's
Tonight The Night
returned to BBC One with 3.16m (17.6%), then 3.28m (14.9%) watched
In It To Win It
, and a repeat of
Inspector George Gently
interested 3.14m (13.7%) at 8.30pm.
BBC Two's night of comedy kicked off at 8pm with classic
Good Life
(1.39m/6.1%) and
Dad's Army
(1.92m/8.3%), before
Sex and the Sitcom
grabbed 1.08m (4.7%), and 892k (4.6%) watched
Men Behaving Badly
at 10pm.
Channel 4's movie
Australia
drew 1.06m (4.9%) between 7pm and 10pm (+1: 195k/0.9%), after which
The Million Pound Drop Live
took 1.35m (8.8%).
Elsewhere,
Law & Order: SVU
(1.03m/4.3%) and Big Brother (1.03m/5.7%) held up reasonably well for Channel 5.
Overall, ITV1 topped primetime with 26.4% (+1: 0.5%, ahead of BBC One's 15.8%. BBC Two claimed third place with 6.5%, followed by Channel 4's 5.4% (+1: 0.9%), and Channel 5's 4.4% (+1: 0.2%).
On the multichannels,
Jay-Z Live @ Hackney
enthralled 573k (2.9%) for BBC Three from 9pm, and was the second most-watched digital broadcast after
Love Actually
, which had 973k (5.4%) for ITV2 (+1: 220k/1.7%).
BARB ratings data supplied by Attentional