Jake Humphrey on 'Free Speech': 'We need more TV for young people'
Published Mar 7 2012, 19:47 GMT | By Alex Fletcher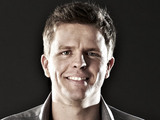 BBC Sport presenter
Jake Humphrey
has claimed that his new live debate show
Free Speech
is filling a gap in the schedules because not enough political TV caters for young people.
Humphrey's new series, which will feature BAFTA-winner Adam Deacon and Radio 1 DJ Gemma Cairney on the panel, is intended to create a talking shop for issues directly affecting young people.
"There are loads of issues directly impacting on young people at the moment, the riots, work experience schemes, rising unemployment, so why not have a show for young people with young people?" Humphrey told
Digital Spy
.
"Young kids are very well catered for TV-wise in this country and also again when you get to your mid-30s. But I think there is a real need for something that caters for and is controlled by young people.
"We want young people to develop and decide how this show works. I won't be going on with a running order. The audience and people at home will direct the way that the show goes.
"As a broadcaster it's exciting to do something that challenges you and moves you away from regular stuff. This couldn't be any more different from standing in the pit lane or covering the Olympics."
Explaining the show's format, he added: "The simplest thing to say is that it's like
Question Time
for younger people.
"The young audience will hopefully share their views and voice, but the biggest thing that this show has going for it is that quite often shows will discuss unemployment, young people not being empowered in politics and the riots, but it's filled with old people and there's not a young person in sight.
"But on this show, not only do we have the 100 or so people in the studio, but also we open the debate up on Twitter. That's something I'm excited about. Through hashtags people will be able to affect a power bar in our studio and as our panel speak, the power bar can go up or down.
"It's instant and honest. People can react and we can discuss why a power bar is going up or down. It's anonymous and I think we'll get some real honesty."
Humphrey also said that he hoped he could be an inspiration for young viewers, commenting: "I didn't go to university, I set up my own business, I wasn't born with a silver spoon in my mouth.
"Everything that I achieved has come from being the son of a teacher and charity worker in Norfolk. There was no reason to suggest when I failed my A-Levels as a teenager that I would end up in London as a TV presenter so I hope that can be inspiring.
"We'll have young people on the panel as well like DJ Gemma Cairney, actor Adam Deacon, so these won't be old men and women talking down, these are young people themselves. And I just about have my foot in the young person category as well. Just."
Free Speech
airs tonight (March 7) at 10pm on BBC Three. Viewers can get involved via bbc.co.uk/freespeech, facebook.com/bbcfreespeech, @bbcfreespeech, and #freespeech.
Watch a trailer for
Free Speech
: