Adrian Chiles, Christine Bleakley in 'fraught' Daybreak talks
Published Nov 25 2011, 09:20 GMT | By Daniel Sperling
Adrian Chiles
and Christine Bleakley are reportedly close to agreeing a settlement with ITV over their
Daybreak
axe.
The former
One Show
pair were
fired from the struggling breakfast programme
last weekend following a prolonged ratings crisis.
Chiles and Bleakley's management demanded the full £2m fee they were each promised upon moving to ITV, despite being axed just one year into their three-year
Daybreak
contract,
The Sun
claims.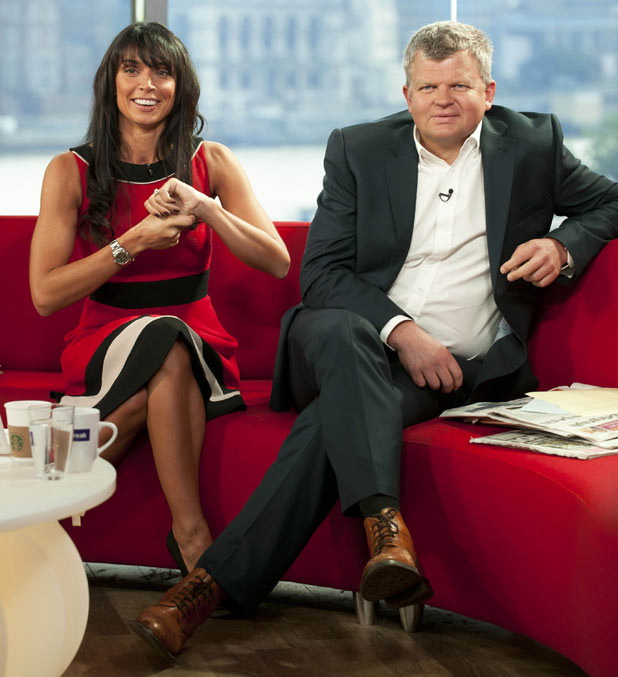 Bosses at the channel allegedly responded by threatening to axe them from other programmes.
"There have been some heated behind-the-scenes discussions," an insider said. "If their agent thought he could hold the channel to ransom then he's found that ITV actually holds the trump card. It has been quite fraught."
In response, an ITV spokesperson insisted: "Adrian and Christine are key members of the ITV family going forward. And we have an important, long-term relationship with them which we are expanding."
Chiles apparently criticised ITV for how his and Bleakley's Daybreak axe was handled
and was quoted as saying: "We were assured we could go with our dignity intact. That's obviously not happened."
> Christine Bleakley replaces Holly Willoughby as 'Dancing on Ice' host