'Gypsy Weddings' ties the knot with 6.4m
Published Feb 2 2011, 15:03 GMT | By Andrew Laughlin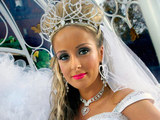 Channel 4's
Big Fat Gypsy Weddings
continued to prove immensely popular on Tuesday evening, eclipsing
Silent Witness
on BBC One, according to the latest audience data.
The
Cutting Edge
documentary, exploring the unique lives of gypsies and travellers in Britain, averaged 6.45m (23.8%) for Channel 4 from 9pm, up 420k week-on-week. A further 1.04m (5.7%) tuned in an hour later, the biggest multichannel audience of the night.
Big Fat Gypsy Weddings
just outperformed
Silent Witness
in the 9pm hour, after the drama brought in 6.37m (23.5%) on BBC One. Both shows proved too strong for
Taggart
, which had 2.4m (8.9%) on ITV1.
Holby City
pulled in 5.96m (24.5%) in the 8pm hour, beating
The Betty Driver Story
's 3.71m (15.2%) on ITV1. Earlier,
The One Show
entertained 4.81m (21.6%) on BBC One from 7pm, while
Grimefighters
had 3.05m (12.9%) on ITV1 from 7.30pm, up 300k week-on-week.
Over at BBC Two,
Natural World
captivated 1.83m (8%) from 7pm, before
A Farmer's Life For Me
entertained 2.03m (8.4%).
Do We Really Need the Moon?
posed the question to 1.78m (6.6%) in the 9pm hour and Charlie Brooker's
How TV Ruined Your Life
mustered 1.21m (5.9%) from 10pm.
Gok's Clothes Roadshow
had 1.9m (7.8%) on Channel 4 in the 8pm hour and 141k (0.5%) on +1.
Shameless
rounded out the evening with 2.52m (14.4%) from 10pm and 346k (3.7%) on timeshift.
Channel 5's
Extraordinary Dogs
mustered 885k (3.8%) from 7.30pm, before documentary
Gladiators: Rome Unwrapped
fetched 1.11k (4.6%).
CSI
and
CSI: Miami
brought in 1.53m (5.6%) and 1.1m (6%) respectively from 9pm.
Overall, BBC One owned primetime with 24.3% against ITV1's 14.1%. Channel 4 came in third with 12.6%, ahead of BBC Two with 7.2% (+1: 1.6%) and Channel 5 with 4.6%.
Sky's big budget new Sky Atlantic channel launched with
Let the Stories Begin
, which pulled in 147k from 8pm. Martin Scorsese's lavish drama
Boardwalk Empire
then entertained 438k between 9pm and 10.30pm.
BARB ratings data supplied by Attentional