Ben Fogle ('Prince William's Africa')
Published Oct 20 2010, 09:35 BST | By Catriona Wightman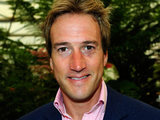 Since appearing on
Castaway
back in 2000, the lovely
Ben Fogle
's become a bit of a TV fixture. As well as presenting shows like
Country Tracks
, he's been on all kinds of scary adventures, including trips to the South Pole and the Sahara Desert. Now, he's followed Prince William to Africa to find out more about the royal and his charity work. We gave Ben a ring to chat about the show, princely banter, reality programmes and his recovery from that
flesh-eating bug
...
Can you tell us what Prince William's Africa is all about?
"It's a documentary that follows William specifically, but his brother as well, while they were on their first joint royal tour out in Botswana. It's about William's work with a charity called Tusk, which he's the patron for and I'm an ambassador of. I've done lots of stuff for Tusk - it's a charity that looks after animal conservation out in Africa. It is what it says on the packet - it's Prince William's Africa. It's about his passion for the wildlife and the continent and the charity that he's patron of, so it gives a pretty unique insight into our future monarch."
Does it focus more on the charities and Africa, or is it more about the Princes?
"I'd say it's a complete mix. There's a crossover between all of them anyway. I suppose it's a lot about William and about what has happened in his life to make him the person he is. And how his passion for Africa began out on his gap year that he spent in Kenya. It's about all the work that he does for a number of different charities like Centrepoint and Help For Heroes. There were a number of other charitable groups out there with the kids. So it's a lot about him and what makes him tick but from an African perspective."
What was it like spending so much time with a Prince?
"It's amazing and very humbling to spend so much time with Prince William and with his brother Harry, and I felt very flattered that he agreed to let me interview him, which has never really been done before, not in this style. He's been interviewed with his father and brother before, a couple of years ago in a TV studio, but never out in a foreign country. It's a very personal interview. He's very honest about many things. There were no taboo subjects - we could pretty much cover most areas and I felt very privileged to be given that opportunity. And very happy that I beat Piers Morgan to it!"
Is that why you wanted to be involved?
"I think both of us wanted to raise the profile of Tusk and show what an amazing job they do looking after both the conservation and wildlife and the people. But I also wanted to show the real William. I wanted the documentary to give the viewers an insight into the fact that he is just a normal 27-year-old boy born into a uniquely privileged family."
Do you think it shows quite a human side of him?
"I think it shows a very human side of him. When you're very close to a subject matter - because I've been involved in this subject matter for a while and I've known Prince William for a couple of years now - it's maybe hard for me to be objective. But I think the feedback I've had from people who've watched it is surprise at how down-to-earth, how comfortable, how relaxed he is and how honest he is."
What was the most surprising thing that you learnt in the show?
"William and Harry are very funny together and it gives a fascinating insight into the brotherly banter between them. There are some hilarious moments, like when they had a boa constrictor put round their necks and it peed all over William, which Harry finds hilarious. And there's a moment where a young girl from Botswana asks if they're twins, and William says, 'No, do I look ginger?' And Harry holds Will's head down and says, 'Do I look bald?' There's a fantastic banter between them and I think the surprising thing for me is how down-to-earth they both are. They don't need rich trappings around them. We stayed in a very basic camp where you go to the loo in a hole in the ground and slept in tents with wildlife all around us - lions and elephants could have come into camp. Here's our second and third in line to the throne with just a thin piece of fabric between them and wild Africa. So I think what surprised me and what will surprise most people is how relaxed and normal they are."
What was your favourite moment from the show?
"I think probably my favourite moment is when I went out very early one morning. It's very cold in Africa in their winter time, so it was minus two, minus three degrees, which I think caught us all off guard. Prince Harry, Prince William and I all went off in the back of a Land Rover on a private safari and we saw lions and elephants and rhino and giraffes. It was pretty unique to be in the back of a Land Rover with the second and third in line to the throne just being completely normal - albeit frozen to death, but being completely normal. For me that was certainly a highlight."
You came to fame on Castaway - would you ever do another reality show?
"I think if the right thing came along I'd consider doing it. I don't think there's anything that's been completely up my street really. I think
Castaway
was a unique show in that it was almost more than a reality show because it lasted a year and there were no prizes. It was more like an experiment. I think if a great experimental TV project came along and it ticked all the boxes then I'd consider it. I think there's some great reality shows out there, but I think there's also some rubbish!"
You got really, really ill filming a couple of years ago - did you ever consider giving up television work?
"No, but I think it makes you reassess your own mortality. I think you realise that you're not invincible and that we're all vulnerable, especially when it comes to health. It makes you readjust things. It makes you think about your family life and what's really important to you. Until you suffer ill health, you don't realise just how valuable your health is, and it is the most important thing in life. But no, I never thought about giving up telly. I certainly started appreciating what I had a bit more."
What other projects have you got coming up?
"I am about to head off to Antarctica again - I must be a glutton for punishment! I don't think I'd specifically choose to go back there, but I'm going back for a BBC documentary about Captain Scott. It's the 100th anniversary of his attempt to beat the Norwegians to the South Pole and ultimately of his death, so I'm going back out there for a month to live at his hut. For me it will actually be quite an emotional journey because he's been a hero of mine ever since I was a child. I picked up a little Ladybird book about Captain Scott and heard these fantastic tales of derring-do and the survival against the elements. So to go back and see the hut he lived in and see the letters he wrote to his loved ones will be very moving."
Prince William's Africa is on Sky1 on Wednesday October 20 at 8pm.