Samsung Pebble Blue Galaxy S3 gets UK release date
Published Jun 8 2012, 18:34 BST | By Mark Langshaw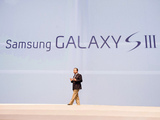 Samsung
's Pebble Blue Galaxy S3 has been given a general release date of June 22 in the UK.
The Android handset was supposed to launch alongside its white counterpart last month, but
suffered delays due to complications during manufacturing
.
Carphone Warehouse and Phones 4u have already sent out the devices to customers who pre-ordered them,
The Inquirer
understands.
The Samsung Galaxy S, featuring a 4.8-inch screen and fast quad-core processor, became the
fastest-selling pre-order phone of all time
following its unveiling, with reports suggesting that it attracted more than 9 million advance purchases.
Apple is seeking a sales injunction on the device in North America over claims that it infringes two of its patents, claims that Samsung has dismissed as "without merit".
Earlier today, a survey by Strategy Analytics found Samsung to be the most preferred consumer technology brand in the US and Europe.