Samsung pips Apple as most preferred consumer tech brand
Published Jun 8 2012, 14:21 BST | By Andrew Laughlin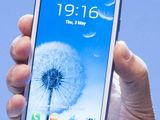 Samsung
Electronics has beaten Sony, Hewlett-Packard and Apple to be named the most preferred consumer technology brand in the US and Europe, according to Strategy Analytics.
In a survey of more than 6,000 consumers aged 15-74 years in North America and Europe, Strategy Analytics found that Korean firm Samsung received the highest overall preference rating, at +41%.
The Galaxy S3 maker's score was considerably higher than nearest competitor Sony, with +29%, and PC maker HP, with +20%.
Rather surprisingly, iPhone and iPad producer Apple came just fourth in the "technology brand preferences" survey, ranking at just +19%, less than half key rival Samsung's score.
But other brands fared much worse, such as BlackBerry maker Research In Motion (RIM), which topped off
a torrid 12 months
by registering -27% on the customer preferences survey.
TV maker Sanyo didn't do much better at -26%, but PC and accessories brand Lenovo pulled in a truly woeful -37% in the research.
"Samsung has made a remarkable journey from no-name brand to global leader in less than 15 years," said David Mercer, Strategy Analytics principal analyst and the report's author.
"In contrast to many of its competitors, Samsung's popularity shows unusual consistency across geography, age and income groups and this suggests the company has a broad and balanced marketing strategy."
Despite Sony's share price
recently falling below pre-1980 levels after four years of consecutive losses
, Strategy Analytics found that the Japanese firm's continued strong brand could help it right the ship.
"In spite of its significant financial losses in its Consumer Electronics segment, Sony still has strong brand equity, which could serve as one of its greatest assets for a potential turnaround," said director of connected devices research Jia Wu.
Respondents were asked to consider how likely they were to choose from 20 global brands to buy technology products, such as computers, mobile phones and TVs.
Strategy Analytics found significant regional and demographic differences in the brand preferences, as Apple was the third-most preferred brand in Italy but ranked just eighth in Germany.
Apple's popularity was also found to diminish in line with age, as it was the second-most popular brand among under-20s, but only tenth with over-65s.