BBC iPlayer sees surge in demand from mobile users
Published May 29 2012, 14:20 BST | By Mark Langshaw
BBC
iPlayer has experienced a surge in demand from tablet and smartphone users.
The broadcaster reported a 94% increase in traffic from mobile customers in April 2012 compared to the same period last year, and a 15% rise in the last month alone.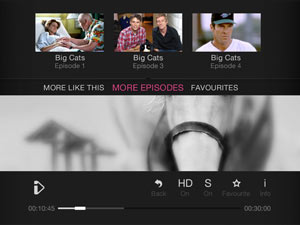 Meanwhile, the BBC iPlayer application for the Apple iPad has been named as the most popular free app of all time in the UK.
Demand from connected television sets, Blu-ray players and gaming consoles also saw significant gains, with year-on-year figures up by 57%, and an 11% increase in April 2011.
The Voice
and
The Apprentice
were the most frequently accessed television programmes during the last quarter, followed by BBC Three's
Russell Howard's Good News
,
Britain Unzipped
and BBC Four's
The Bridge
.
In the radio sector, BBC Radio 1 and BBC Radio 4's
The Now Show
were the most popular, along with coverage of the Premier League and FA Cup on BBC Radio 5 Live.
> Read our interview with global BBC iPlayer general manager Matthew Littleford