'Coronation Street': More Betty send-off details revealed
Published Jan 31 2012, 15:50 GMT | By Daniel Kilkelly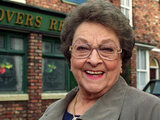 Betty Williams's send-off from
Coronation Street
will be centred around her wake, it has emerged today.
Inside Soap
has revealed that Betty's funeral will take place off-screen, with the main action occurring when Weatherfield's residents toast her life at The Rovers after attending the service.
Digital Spy
understands that a number of characters will be seen leaving for the funeral, before later returning to the pub to reminisce over Betty.
The main story will be Betty's "surprising" secret - as show producer Phil Collinson
recently teased in a newspaper interview
.
"We will be paying tribute to Betty, but behind the scenes will be the revelation of a secret she has kept hidden," Collinson said last week. "I cannot tell you what it is, but it's a secret that Betty has taken to the grave with her and I can promise you that fans will be surprised.
"There is no love child or anything like that. The secret has something to do with the show's history but I am saying no more."
As announced today, Bill Kenwright will be reprising his role as Betty's son Gordon for the episodes in question - but no other old faces are expected to return.
Betty Driver
, who played Betty for 42 years,
passed away in October at the age of 91
.
> Coronation Street stars pay tribute to Betty Driver
> Coronation Street's Betty Driver 1920-2011: Obituary
> Coronation Street boss promises "brilliant" Betty send-off
> Read more Coronation Street spoilers and news