'Coronation Street' Liz Dawn: 'I quit because I thought I was dying'
Published Jul 12 2012, 14:14 BST | By Daniel Sperling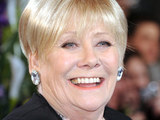 Former
Coronation Street
star
Liz Dawn
has admitted that she decided to leave the soap after suffering so badly from emphysema that she "thought [she] was dying".
The actress departed the role of Vera Duckworth after 33 years in 2008 because she found herself becoming "stressed" on set and feared she was "letting people down".
"My breathing was so bad I thought I was dying,"
What's on TV
quotes her as saying. "I'd smoked for many years and I'd always had a bit of a cough and a splutter but I was getting worse and worse and I was struggling to breathe.
"I was frightened of letting people down when I was filming. I would cry sometimes because I was so stressed.
"I couldn't walk more than a few steps without having to sit down and I was so tired I couldn't even learn my lines."
Dawn, who has since become an ambassador of the British Lung Foundation, also called for more people to get "checked over", noting that she would have been forced to quit
Coronation Street
earlier if she hadn't.
"As long as you get the right medication you can have a life," she said. "If I hadn't got treatment then I'd have had to leave
Corrie
years before."
Dawn made a
one-off appearance as Vera
in a 2010 episode that saw her on-screen husband Jack (Bill Tarmey) pass away from cancer.