'Coronation Street' funeral drama seen by 7.7m
Published May 29 2012, 10:19 BST | By Daniel Kilkelly
Coronation Street
was at the 7.7m mark for both episodes of its double bill last night (May 28), overnight figures show.
The ITV1 drama attracted 7.69m (39.0%) at 7.30pm and 125k (0.6%) on +1 as
Paul asked Eileen to join him at Lesley's funeral
, while
tensions at the service
were witnessed by 7.7m (34.3%) at 8.30pm and 202k (0.9%) on timeshift.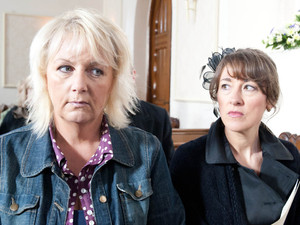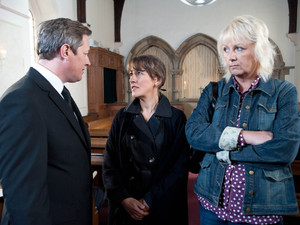 EastEnders
, meanwhile, pulled in 7.38m (34.9%) at 8pm - up 220k week-on-week - with
the aftermath of Ian's disappearance
. BBC Three's repeat screening was seen by 760k (3.9%) at 10pm.
Emmerdale
interested 5.76m (33.3%) at 7pm as
Alicia landed herself in hot water by lashing out at Val
, while 131k (0.6%) tuned in on ITV1+1.
Hollyoaks
managed 835k (5.3%) at 6.30pm on Channel 4 as
news of Silas hit the front pages
, while
Doug's ongoing storyline
brought 467k (2.7%) to E4's first look at 7pm.
Over on Channel 5,
Neighbours
grabbed 545k (10.0%) at 1.45pm and 785k (6.5%) at 5.30pm, while
Home and Away
mustered 684k (4.7%) at 6pm and 448k (2.8%) for
5*'s first look
at 6.30pm.
Elsewhere,
Howard Bellamy's arrival in Doctors
was seen by 1.09m (20.1%) at 1.45pm on BBC One.
BARB ratings data supplied by Attentional