POTD: 'Coronation Street's Kirsty vows to leave
Published May 25 2012, 00:01 BST | By Daniel Kilkelly
Coronation Street
's Kirsty Soames threatens to walk out on fiancé Tyrone Dobbs in tonight's (May 25) double bill of the soap.
Kirsty (
Natalie Gumede
) is stung when an angry Tyrone refuses to forgive her latest violent outburst, rebuking her when she tries to blame pregnancy hormones for her behaviour.
Later, when Tyrone returns home from work, he finds that Kirsty has packed her bags and is ready to leave him. Keen for her to stay, Tyrone quickly changes his tune by admitting that he isn't prepared to give up on their relationship.
Kirsty doesn't want to go either, but needs Tyrone to understand how much her troubled past has affected her. As she opens up about her abusive father Ed, will it be enough to save her romance with Tyrone?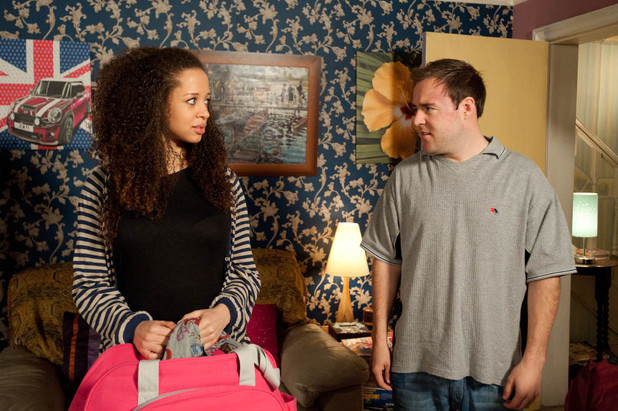 Coronation Street
airs tonight at 7.30pm and 8.30pm on ITV1.
> 'Coronation Street' Natalie Gumede reveals Kirsty secrets
> 'Coronation Street' Natalie Gumede interview: 'Kirsty has a dark past'
> Read our spoiler for tonight's first 'Coronation Street' episode
> Read our spoiler for tonight's second 'Coronation Street' episode
> Read more 'Coronation Street' spoilers and news