'Coronation Street' star promises Eva, Leanne troubles
Published Aug 3 2011, 13:42 BST | By Daniel Kilkelly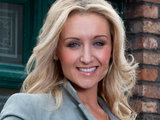 Coronation Street
star
Catherine Tyldesley
has predicted that her character Eva Price will not give up trying to cause problems for her half-sister Leanne Barlow.
Eva tries to keep Leanne away from her family
in next week's episodes by secretly ripping up a birthday card that she has brought round for Stella, leaving the Rovers landlady convinced that Leanne has snubbed her special day and wants nothing to do with her.
Stella only revealed her true identity to Leanne (Jane Danson) a few weeks ago, confessing that
she is her real mother but had left her when she was a child
.
Tyldesley told
Inside Soap
of Eva's upcoming spiteful act: "She doesn't think Leanne has any right to give Stella a birthday card. That's very much Eva's territory, so she's a bit miffed.
"She just doesn't want to have to share her mum with anyone - she's never had to do it in the past, so why should she now? She's very close to Stella and doesn't want to lose that."
Tyldesley hinted that it may not be the last time Eva attempts to come between Leanne and Stella (Michelle Collins).
"I don't think she's bothered about being found out," she continued. "Eva's trying to prove a point and if anyone learns about the card, she won't let that stop her. She'll always be trying to put a spanner in the works and Eva's not going to give up."
> Read more Coronation Street spoilers and news