'Coronation Street' Nigel Pivaro teases Terry return plot
Published Apr 11 2012, 00:01 BST | By Daniel Kilkelly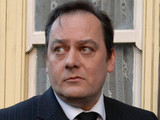 Coronation Street
bad boy Terry Duckworth is back causing chaos on the cobbles next week as he arrives to launch a lap-dancing bar next to the Bistro.
As Terry comes face-to-face with his shellshocked son Tommy (Chris Fountain), he doesn't seem at all interested in getting to know the mechanic - wanting to focus solely on his business ambitions.
However, Terry's attitude soon changes when he discovers that Tommy has recently inherited a substantial sum from his late grandfather Geoff. Needing financial backing to get his bar off the ground, Terry puts on a show of contrition - but will Tommy be fooled?
Here,
Nigel Pivaro
chats about reprising the role of Terry and reveals details of the upcoming storyline.
You've been away from acting for a few years as you're a journalist now. Would any other job have tempted you back?
"No, not really! With all due respect, if I'd been asked to do a 20-week tour of a play, that wouldn't have grabbed me at all. But
Coronation Street
was obviously different."
Did you expect to return at some point?
"Well, it hadn't really occurred to me, because I had my head down doing my journalism work. But then the phone call came, and it was a delight to be asked. It came at the right time, as I'd been writing for five years professionally, so I felt comfortable and confident with it. I thought there'd be no issue with doing something else now.
"If the offer had come in the first year or 18 months of my journalism career, I think I would have had a completely different mindset about it. However, when the call did come, I felt more than comfortable and more than established. It was perfect timing."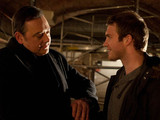 Terry is back to open a lap-dancing bar! Why does he choose Weatherfield for his new business?
"Because he wants to prove a point to people round there. He could have launched the bar anywhere, really, but I think he wants to prove to people that he can make something of himself. He's showboating a little bit!
"Terry thinks he's got a vision. He's got the idea that this is the way high-rollers spend money, misguided as he may be. He thinks the bar is going to attract footballers and celebrities."
How do the Weatherfield locals react to Terry's plans?
"They're not happy to have Terry back, and they're especially angry that he's going to be opening a lap-dancing bar on a residential street! You won't be surprised to hear that Norris is doing a bit of finger-pointing…"
Terry sees a place for Tommy in his plans when he learns of his inheritance, doesn't he?
"Yes, Terry sees this as a real opportunity. He's not in dire straits with his finances, but he's punching above his weight. So while Tommy's inheritance isn't a life-changing fortune, it's a substantial amount that would be crucial to Terry's plans. It's a possible lifeboat for Terry."
How does Terry worm his way in with Tommy to get the cash?
"Terry relies on his wide boy persuasiveness, but he's quite lucky because Tommy is a willing recipient. Like most children who didn't have their parents growing up, Tommy is desperately curious about his heritage. So Tommy does make it easy for him! Tina also encourages Tommy, because Terry is new to her and she doesn't know what he's really like."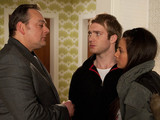 Does Tommy know that Terry sold him to the Hortons all those years ago?
"Tommy finds this out very early on, but Terry has his own explanation for all that. It sounds pretty horrendous, but in Terry's mind, his motive was good rather than bad!
"When Terry sold his child, he didn't want Tommy to grow up with Jack and Vera, as they'd made a mess of his own upbringing. He didn't want Tommy growing up in a backstreet in Weatherfield, when he could grow up in suburban Blackpool with middle-class guardians. It's true - he's not spinning a line."
Does Terry have any paternal feelings for Tommy?
"He does, but they manifest themselves in very strange ways, as you'll see! You're never quite sure with Terry, as like all of us in life, he doesn't just have one particular motivation. He's governed by many things and issues - by paternalism, by wanting to do right by his son, by wanting to rectify some of his mistakes, and by pecuniary issues as well."
Could Terry grow to care for Tommy?
"I think he does care, but he's a survivor and an opportunist. He will take whatever course is necessary to further his interests and his survival. But as he reflects, he'll reassure himself deep down that he really cares about his lad. It just may not be apparent to everybody else, or Tommy himself!"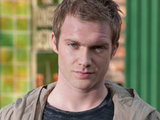 Are you enjoying working with Chris Fountain?
"Yes, it's been great to work with Chris and some of the other young actors in the show. They've all been very welcoming and very respectful, saying things like 'iconic' in relation to my character, so that's putting them in my good books! (Laughs) It's very reassuring that these kids have a respect for the show and what's gone before."
What can we expect from Terry's scenes with Tyrone?
"There's tremendous friction, and that's been a joy to play. That's one of the wonderful things about
Coronation Street
- that continuity of relationships has underpinned its success over all the years. So that manifests itself in their meetings and confrontations."
Terry also has quite a few scenes with Kirsty, doesn't he?
"Yes, and Kirsty being a policewoman and having a natural curiosity certainly doesn't endear her to Terry! Terry finds a way to turn the feud between Tyrone, Kirsty, Tommy and Tina to his own advantage. He hates Tyrone with a passion so he enjoys causing trouble for him, but Kirsty and Tina are pawns in his strategy. But he doesn't really reckon on Kirsty, as he doesn't think that a WPC is on his level."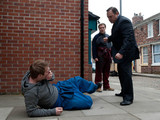 Despite his villainous ways, can you see an endearing side to Terry?
"Absolutely. From my point of view, he's got to this position from his history. He didn't have wonderful parents, so he became a chancer. But Terry has certain limits that he probably wouldn't cross, and he's got a certain charm. I try to play him as a character who has his lighter moments. There's an element of fun to Terry and it's important that it isn't dark and heavy all the time."
Do you get a lot of reaction for your role as Terry when you're out and about?
"Never a day goes past where somebody doesn't make a reference to it. There's no science to it - one day it could be four or five negative encounters, and you're left loathing the general public! And then the following day, it's just the opposite - people are offering to carry your bags and things like that. It's unbelievable. People can be good, bad, kind and nasty!"
How long is Terry back for this time around?
"I'm back for a few weeks. It's finite - it has a beginning, a middle and an end, but there are repercussions which continue even after he's left, so he makes a big impact!"
> Coronation Street return for Terry Duckworth> Coronation Street Chris Fountain excited over Terry Duckworth return> Read more Coronation Street spoilers and newsCoronation Street airs Mondays, Thursdays and Fridays on ITV1.