A furious Ian punches Masood
Published Nov 23 2010, 00:02 GMT | By Daniel Kilkelly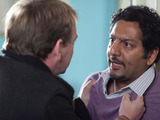 Jane tells Masood that Ian knows about what went on between them. A paranoid Masood then does everything he can to get Zainab out of the way, and she finally agrees to go to town and spend the night at Bushra's. Later, Ian knocks on Masood's door to tell him what he really thinks and ends up punching him. Masood tries to convince Ian that nothing really happened between him and Jane in the hotel room.
Meanwhile, Syed visits The Vic and reveals to Christian that he thinks his father is having an affair with Jane. Christian tries to cover for her, but Syed is not discouraged. He is also feeling sorry for Tamwar and encourages him to start standing up for himself at home. He later invites his brother and Afia over to give them a chance to make it work - and the plan is a success.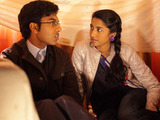 Tamwar and Afia head to the Argee Bhajee, where Afia builds a den for them to cuddle under. They decide to stand firm with Masood, but the plan goes terribly when Masood tells Tam off for defying him like Syed did. After being forbidden to see Afia again, Tamwar heads back to Syed's place to tell him off for interfering. Undeterred, Syed visits the family home to confront Masood, telling his father that if he doesn't let Tamwar do what he wants, he will tell Zainab about his affair with Jane. Masood tries to call his bluff and tells him to come back tomorrow to tell Zainab what he knows. Syed defiantly agrees to do this...
Meanwhile, Stacey and Ryan cannot help but flirt with each other while they are working at The Vic. The flirting intensifies after Stacey hints to Ryan that he's the reason she decided to stay in Walford. When Ryan puts an ice cube down her back, she retaliates and Ryan slams her against the banister and they kiss passionately, narrowly escaping being caught by Julie, who is working at the pub for a trial period. Later, however, Stacey rejects further advances from Ryan, telling him she deserves respect as she's the mother of his child. Giving him an ultimatum, Stacey says that he either leaves Janine to be with her and Lily, or he stays with Janine and leaves them alone.
Elsewhere, Glenda hopes that Ian will help her out of some money troubles after she is unable to pay her share of the rent; Julie's trial period at The Vic is a disaster but Kat agrees to give her one last chance; Heather convinces Dot to join the choir; and Glenda opens her door in her nightgown to find a guilty-looking Ian saying they can make an arrangement.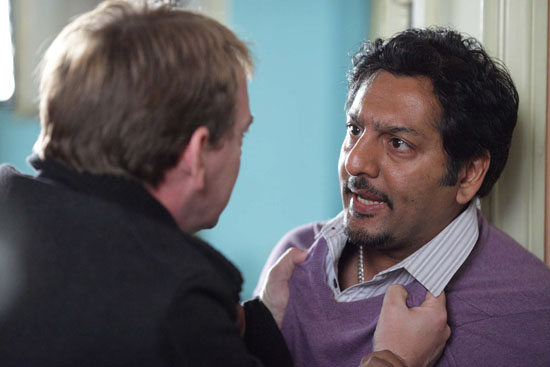 A raging Ian knocks on Masood's door to tell him what he really thinks.