Michelle Ryan: 'I feel nostalgic over EastEnders'
Published Jul 30 2012, 17:41 BST | By Paul Millar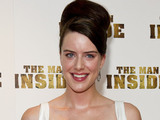 Michelle Ryan
has admitted that she experiences nostalgia when people refer to her
EastEnders
character.
The Zoe Slater actress, who starred on the BBC soap between 2000 and 2005, said that she enjoys inquisitive fans' questions about her time in Walford.
She told
MSN
: "It's quite nice, it's become nostalgic now."
Teasing her new film
Cockneys vs Zombies
, the star added: "
Cockneys vs Zombies
is set in the East End so the fact I still have people asking about
EastEnders
is great.
"The character I play is not anything like Zoe but there's still that kind of vibe that has that East End grip to it."
Ryan plays the lead part Katy in
Cockney vs Zombies
, which will be released on August 24.
The 28-year-old had previously predicted that she will
"never get away"
from Zoe.