'EastEnders' Jacqueline Jossa dad jailed for £500,000 taxpayer theft
Published Jul 12 2012, 17:20 BST | By Daniel Sperling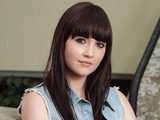 The father of
EastEnders
star
Jacqueline Jossa
has been jailed for four years after stealing nearly £500,000 of taxpayers' money.
The actress, who plays Lauren Branning on the BBC soap, is said to have wept as her father John pleaded guilty to three offences of dishonesty or tampering with expenses during his time as head of finance at Enfield Council.
The 58-year-old siphoned off £491,088.35 into his own account between 2006 and 2010, £42,000 of which came from false wages to his wife, who he pretended also worked at the council.
However, he lost a significant amount of the money in scams and only £25,000 was recovered when Enfield Council launched a court action against him, according to the
Daily Mail
.
John, who in 2009 collected more than £170,000 in redundancy and continues to receive a pension, was told by Judge Nicholas Cooke at the Old Bailey that he had "embarrassed the vast majority of hard working...government employees" with his "criminally distorted thinking".
Judge Cooke added: "In addition to being fully dishonest, he's a fool... Your offending will have real consequences to local residents in terms of reduced services or a decline in payments for those that live in the area."
Jacqueline, 19, recently said that she
intends to stay on EastEnders for many years
.