'River City's Pamela Byrne: 'I cried during final scenes'
Published Jul 29 2012, 23:35 BST | By Tom Eames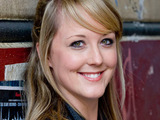 River City
star
Pamela Byrne
has spoken about her final scenes in the soap.
The actress will be
departing River City after three years
playing hairdresser Hayley McCrone on Tuesday (July 31).
Byrne revealed that she found the final shoot highly emotional, and that she even struggled reading her lines through the tears.
"It was so tough. Gary and I couldn't even read through our lines before heading to set without getting emotional. I'm sure it was odd for the cast and crew to see us like that," she told
The Sun
.
"In real life we are very much like our characters so when we arrived on set everyone was kind of eerily quiet. When we began to run the scene where I drive away in the taxi, Gary and I couldn't stop crying."
Byrne stated that she will remain close to her co-star Gary Lamont, who plays Robbie Fraser.
"We are best friends - he even gave me away at my wedding earlier this year in New York. It just means we won't get to work together anymore which is a real shame.
"It's not very often you experience a genuine connection to another actor, where you really know how to bounce off each other, but we had that."
Along with raising funds for charity Gambia Solar Project, she said that she would like to see more of the world since filming her final scenes in May.
Byrne added: "I would love to do a bit more travelling.
"I'm lucky that recently I've visited some exciting places like India and The Gambia, but I would love to see Thailand and Cambodia, Japan and South America. I am an adventurer at heart."