6424: Vanessa's date with Rhys goes wrong
Published Jun 30 2012, 00:01 BST | By Daniel Kilkelly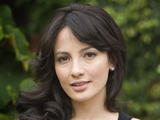 Seeing Rhys flirting with Tiffany, Vanessa finally cracks and spontaneously invites him over for dinner. Rhys is nervous, while Vanessa does her best to give in to her attraction to him. However, when Rhys has a strong, allergic reaction to one of the ingredients in the meal, he tries to cover it up - hoping not to blow his chances with Vanessa.
Vanessa soon realises and she's furious with him for staying quiet on his allergy. Rhys's apology touches her heart, and the couple finally close in on a kiss - only for Lucas to arrive and spoil it.
Meanwhile, fired-up Callum goes to throw a rock through Troy's window, only to be stopped by Lucas. Seeing Sonya's distress, Callum is frustrated by his helplessness, but Sophie inadvertently makes him realise that he can fix this. Seeking out Troy, Callum makes him an offer - if he calls off the dogs, he'll agree to spend time with him. Callum is willing to make the ultimate sacrifice to protect his family, but will his plan work?
Elsewhere, while Susan is happy with the new integrity of
Erinsborough News
, Paul worries about slipping sales and loss of advertising dollars. Pressured to produce more popular content, Susan asks an unenthusiastic Summer to write a dating column. Seeing her reluctance, Andrew suggests she do a bad job so that Susan won't ask her again. Summer is tempted, but can she go through with it?