'Neighbours' Eve Morey talks Inside Soap Awards, Sonya future
Published Jul 30 2012, 00:02 BST | By Daniel Kilkelly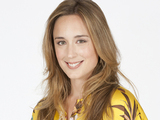 Neighbours
favourite Sonya Mitchell has another big week ahead on UK screens as the soap's dramatic Troy Miller storyline
reaches an explosive conclusion
.
In real life, meanwhile, Sonya's portrayer
Eve Morey
is celebrating after being nominated for 'Best Daytime Star' at the Inside Soap Awards for the second year running.
Now back home in Australia following a promotional trip to the UK, Eve recently caught up with
Digital Spy
to chat about the nomination and Sonya's future.
Congratulations on your nomination for 'Best Daytime Star' at the 2012 Inside Soap Awards. How does it feel to be in the running?
"I'm blown away. It's exciting, very flattering and also fun to be featured with my colleagues. There is a lot of ribbing going on in the green room!"
How do you rate your chances?
"Zero! I'm just very happy to have been included among the nominations."
Neighbours is also up for the 'Best Daytime Soap' prize. Why do you think people should be voting for the show this year?
"Okay, I'm going to push Sonya and Toadie's barrow here. You should vote for
Neighbours
because of this gorgeous couple and they're finally having a beautiful baby, and they're a great mum and dad… see, I'm not great at self-promotion! Maybe if I say 'please', that will help!"
Which of your storylines have you particularly enjoyed this year?
"Oh, definitely the pregnancy. I think the way it has unfolded has been so beautifully and precisely plotted for this couple. They've had highs and lows, and their reactions to all situations have been perfect."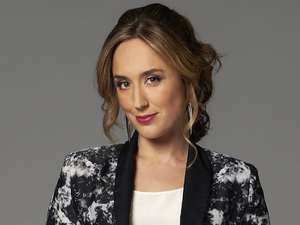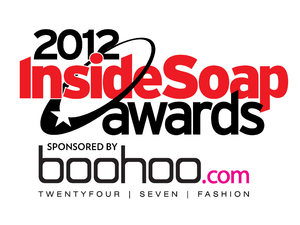 Do you enjoy wearing the baby bump?
"Yeah, it is fun. It's an odd sight when I go into costume and there on my rack with my clothes for the day is a belly. It's also funny having Alin [Sumarwata], who plays Vanessa, also strapping on a belly at the same time!"
After the mistakes she made with Callum, do you think Sonya will be a good mum second time around?
"I think she could overcompensate to make up for those mistakes in the past, and she is pretty tough on herself. The baby will always be her main priority, but at what cost? There's something to ponder!"
Toadie's relationships have often ended in tears, so what do you think it is about Sonya that has meant a more long-lasting romance?
"They just know each other so well now. This sounds cliché, but they really are best friends who happen to be in love."
What was it like to film the dramatic Troy Miller scenes recently?
"They were very heavy scenes with lots of yelling, screaming and tears - but the drama is fantastic!"
Given her history, would you like any more faces from the past to come back to haunt Sonya?
"Jeez, I'm not sure. I think we have flushed that out quite a bit already, but there is nothing like a good skeleton in the cupboard to spice things up!"
How did you find your recent publicity trip to the UK with co-star Ryan Moloney (Toadie)?
"I'm still pinching myself that we were on this whirlwind adventure. Everyone was so nice and really interested in
Neighbours
- it was lovely to see how much the show is loved and respected in the UK. It was also great to be there so close to the Olympics because there was a real buzz."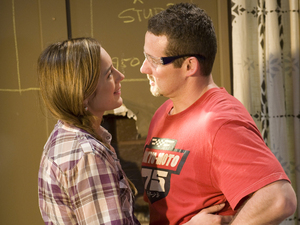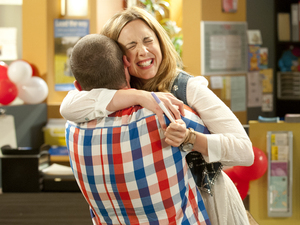 Gemma Pranita, who plays Sonya's sister Jade, recently announced that she is leaving Neighbours. Will you be sad to see her go?
"Absolutely. Because we play opposite each other a lot of the time, we spend a lot of time together and just have fun all the time. I'm trying not dwell on it actually. She is beautiful and extraordinarily talented, so I know she'll have a bright future."
With the news that Gemma is leaving, can you assure fans that you'll be staying around on Neighbours for the foreseeable future?
"Hey, we just did a major renovation on the house, so I'm not going anywhere!"
What would you like to explore next with Sonya, and who would you like to share more screen time with?
"I'd like to see her a bit more impulsive, throw herself into something out of character. And I'd love to do more with Colette [Mann]."
What are your hobbies outside of work?
"I do a lot of running, which is handy because I love eating really good food and trying new restaurants… and London has some great restaurants, by the way!"
Can you share any final hints on what's next for Sonya?
"She is concerned about her friend Lucas and how things pan out with Vanessa, so she does do a little meddling there. She also has some definite ideas about the birth which has Toadie in a spin…"
> Read the full longlist of nominations for the 2012 Inside Soap Awards> Read more 'Neighbours' spoilers and newsThe 2012 Inside Soap Awards - sponsored by online fashion retailer boohoo.com - take place in September. Voting is open via the Inside Soap website.Neighbours airs weekdays at 1.45pm and 5.30pm on Channel 5 in the UK, and weekdays at 6.30pm on Eleven in Australia.